Home page
Welcome to the German Federal Chamber of Pilots
You are visiting the international version of the website of the "Bundeslotsenkammer" (BLK), the Federal Chamber of Pilots (FCP) of Germany.

The FCP is the trade association of the 7 pilot brotherhoods under the "German Maritime Pilot Act". All 7 pilot brotherhoods together consist of more than 800 maritime pilots. The number of pilots in a brotherhood range from about 30 to over 200 depending on traffic and district size.

Integrated in the FCP is the head quarter of the pilot facility system (PFS). The pilot facility system is the backbone of modern and efficient pilotage services. It maintains crewing, pilot boats, off- and on-shore pilot stations, etc. as a nonprofit organisation.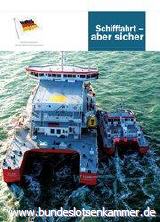 New brochure: click here
©2012 www.bundeslotsenkammer.de